Umansky Subaru invites you to learn more about the capable and versatile 2019 Subaru Ascent for sale in Charlottesville, VA. Explore all the specs, features, trims, and options for this all-new 3-row SUV.
Subaru hasn't had a big, third-row sport utility vehicle in several years and when families got too big for the Outback they had to shop outside the brand. Dedicated Subaru drivers currently have an option for a functional, capable, third-row automobile and it's the 2019 Subaru Ascent. The '19 Subaru Ascent may look like an overgrown Outback, yet it's really a completely brand-new SUV. The family-sized new Ascent, featuring standard an all-new Direct-Injection Turbocharged (DIT) SUBARU BOXER ® engine and Symmetrical All-Wheel Drive, is ready for your everyday experiences.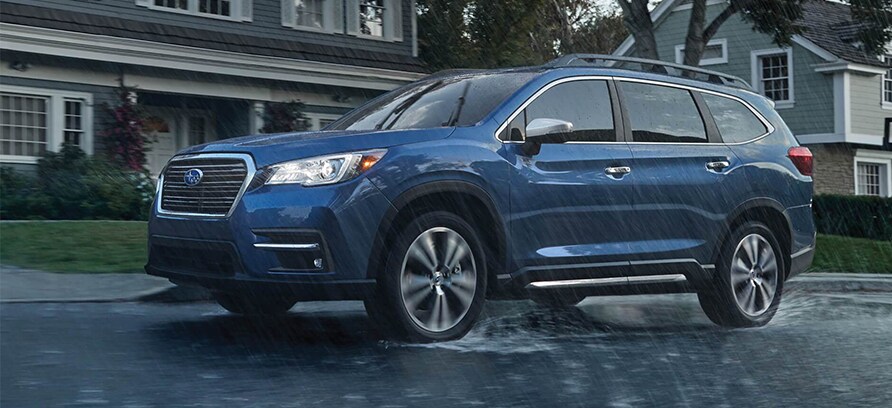 ---
2019 Subaru Ascent - Specs, Features & Trims
---
Design Highlights:
It's no accident that the 2019 Ascent reminds you of an Outback that's been struck by some type of fictional 'enlarger ray-gun.' Subaru previously attempted to make a large sport utility vehicle however the design was controversial and it didn't sell well. As a matter of fact, the Subaru Outback sold greater than double the ten year sales of the Tribeca in 2018 alone. So, it makes good sense that Subaru would lean greatly on such a prominent design. However, it's not simply an enlarged duplicate, the '19 Ascent comes equipped with seating for 7 or 8, 19 cup holders, optional Power Rear Gate and Standard Raised Roof Rails. The 2019 Ascent is ready for your household adventures and all the equipment needed for such adventures.
---
Performance Highlights
Subarus are judged in a different way than the majority of sport utility vehicles. With the WRX as the anomaly, Subarus are known to be more practical than outrageous. The all-new Ascent fits that pattern completely with its mix of roomy practicality & off-road competence. While other sport utility vehicles in the market might have extra horse power they suffer in fuel performance or do not have All-Wheel Drive. The '19 Ascent intends to be the jack of all trades - and with 260 horsepower, AWD and the capacity to tow a maximum of 5000lbs - it succeeds! The 2019 Ascent is an all-round SUV that continues to be unmistakably Subaru.
---
Technology Highlights
Right from the start, every new Ascent comes with EyeSight Driver Assist Technology. That indicates that you obtain Adaptive Cruise Control, Pre-collision Braking, Lane Departure & Sway Warning, and Lane Keep Assist regardless of which trim level you acquire. The vehicle and the modern technology choices are shown in that. There is available WiFi connectivity, as many as 8 USB ports and the clever STARLINK Entertainment Anywhere bundle. A lot of entertainment plans consist of numerous displays that are permanently installed in the vehicle, so when you get to your location your entertainment is locked inside the sport utility vehicle. Subaru has partnered w/ Apple ® for the STARLINK Entertainment Anywhere package, it includes 2 iPads ®, two Harman Kardon ® Bluetooth Headphones, and 2 OtterBox ® Defender cases. With this feature you can take your entertainment with you.
---

Test Drive the 2019 Subaru Ascent in Charlottesville Today
Want to learn even more about the 2019 Subaru Ascent in Charlottesville, VA? Visit Umansky Subaru online, in-person, or call us to schedule a test drive.
2019 Subaru Ascent: Specs, Features & More | Umansky Subaru