The 2020 Subaru Love Promise Community Commitment Award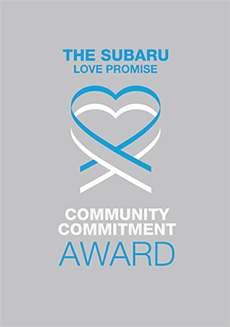 We've been nationally recognized for our dedication to our community and the Subaru Love Promise.
We're honored to receive the 2020 Subaru Love Promise Community Commitment Award. This award nationally recognizes Subaru retailers who are making the world a better place while demonstrating an outstanding commitment to supporting passions and causes in local communities. These efforts are focused in important areas such as the environment, community, health, education, and pets.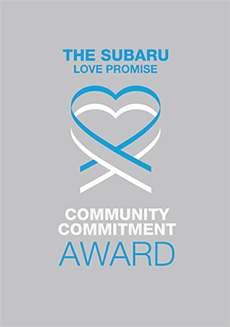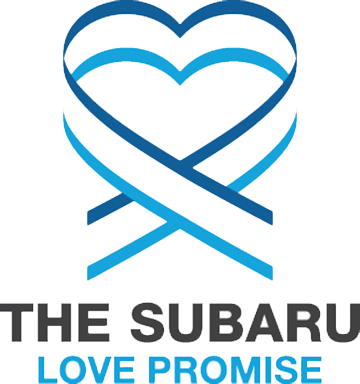 What is the Subaru Love Promise?
Subaru and our retailers believe in making the world a better place and the Subaru Love Promise is our vision of respecting all people. This is our commitment to show love and respect to our customers and to work to make a positive impact in the world.
How is Umansky Subaru of Charlottesville dedicated locally to the Love Promise?
We are commited to being more than automotive retailer by advocating for pets, people and the environement in our community.
Emily Couric Cancer Center
Love Promise Stories from Umansky Subaru of Charlottesville
Subaru and Umansky Subaru of Charlottesville believe in making a positive impact on the communities in which we live and work. We uphold that belief through our Love Promise Community Commitment. Every month, we select inspiring stories from customers and partners from around our area who strive to support our collective commitment and feature them here
A little warmth.... - Stephen H
One of the most important ways we work to support the community is through outreach and assistance for local, worthwhile, nonprofit causes. To that end, we recently visited the team at The Haven, a local shelter that's near and dear to our hearts, with a donation of blankets. The Haven works with the area homeless population, providing resources, care, and comfort. Our blankets, emblazoned with the Subaru logo, are one of the ways we strive to help The Haven in their worthwhile mission, and as part of our endeavor to do our best to help end homelessness in our area. If you're interested in learning more about The Haven, we can help. The shelter gladly accepts donations of time or fundraising from the broader Ruckersville and Earlysville area, and it's a great way to reach out and show your passion for helping people in need from our communities. Of course, Subaru has a long history of helping out in communities across the country, and we're proud to be a part of the carmaker's longstanding tradition of both outreach and nonprofit giving. Every year, Subaru donates supplies, including our blankets, and funds to nonprofit organizations and worthwhile causes here in Charlottesville, and across the United States. This includes national charities and causes, such as the Make A Wish organization, and it also includes local groups that are handpicked by neighborhood dealerships, such as our donation to The Haven. As always, we're excited to be a part of the Subaru legacy and we're proud to be your neighbors, working and living in the greater Crozet area. Let's work together to support those who support our community, such as The Haven. You can contact us or our friends at The Haven to learn more about who they are, what they do, and how you can help.
---
Meals on Wheels of Charlottesville/Albermarle - George A
We love partnering with Umansky Subaru during the 2020 Subaru Share the Love Event! They're the wheels, we're the meals, and our seniors are the winners!! Thank you Umansky Subaru!!
---
The Facteaux! - Nikki R
Had a wonderful time with our new Ascent (3rd subaru) driving cross country to the Rocky Mountains. The landscape was beautiful and we love that Subaru supports our local Ronald McDonald house. Share the love.
---
2019 Love Spreads in 2020 - Rita R
2020 began with great enthusiasm and quickly moved to a daily uptick in uncertainly, fear, unemployment, and illness. It has been a difficult time for everyone. Luckily, the Ronald McDonald House of Charlottesville (RMH-C) has been able to continue with its mission to provide lodging, meals, and encouragement for the families of seriously ill and injured children receiving treatment at UVA Children's Hospital. However, the House needed to make a number of significant changes to its operations to do this. Included in these changes was the need to restrict all outside visitors to the House - including volunteers. An immediate impact of this latter decision was to put an end to the wonderful brunches, lunches, and dinners volunteers would make for the families. RMH-C had to work quickly to source fresh meals that could be pre-packed in individual servings and delivered to the House. It also needed to fill in all of the gaps in the pantry/fridge food supply system usually provided by faithful volunteers, such as milk, eggs, cheese, yogurt, etc. All of this has been an extremely expensive – but absolutely necessary - venture. The Share the Love dollars help to fill the gap between what had been budgeted for food-related expenses and the actual cost of food expenses incurred to date in 2020. This donation is a Blessing – with a capital "B". Without the funds from the 2019 Share the Love program 2020 would be very bleak, indeed, for the House. The RMH-C has had to cancel its fundraising events for the year. Dollars received in support of our program are always precious to the House, but this is particularly true this year. As we continue to fulfill our mission we realize that it is only through partners like Subaru of America and Umansky Subaru of Charlottesville that we are able to do this. We are most appreciative. Rita Ralston Executive Director Ronald McDonald House Charities of Charlottesville
---
Marshall Watson Memorial Scholarship Fund - Doug W
Umansky Subaru again this year was the main sponsor for the Marshall Watson Memorial Scholarship Fund. The event was a huge success this year that was put on at Greene Hills Country Club. The event raised enough money to increase the value of each scholarship.
---
Subaru & LLS Deliver Blankets to Cancer Patients - Khiem T
On July 11, 2019, the Virginia Chapter of The Leukemia & Lymphoma Society and Umansky Subaru had the pleasure of delivering 80 blankets and 10 arts & craft kits to Emily Couric Clinical Cancer Center as part of the Subaru Loves To Care program. These comforting gifts were accompanied by personalized messages of hope written by the customers and staff of Umansky Subaru. This incredible act of generosity was warmly received by the Emily Couric Clinical Cancer Center staff who were thrilled to distribute these comforting gifts to their patients. LLS is proud to partner with Subaru to spread hope, love and warmth to those fighting cancer, across the country and right here in the Emily Couric Clinical Cancer Center community. Many thanks to everyone at Umansky Subaru and Emily Couric Clinical Cancer Center, not only for a memorable day, but for supporting LLS's mission to cure blood cancers and improve the quality of life of patients and their families.
---
MARSHALL WATSON MEMORIAL TOURNAMENT - TIFFANY S
This year we were the main sponsor for the Marshall Watson Memorial tournament. This event not only honored an amazing man in our community but also gave out a scholarship to local high school students planning on attending college in the fall. As the main sponsor, we sponsored 4 holes with a donation, signs, and prizes. We displayed A brand New Forester and had gifts to hand out. This was an amazing event and raised enough money to add another scholarship this year !! We plan to be apart of this again this coming year
---
SUBARU/LLS BLANKETS AND WARMTH TO CANCER PATIENTS - Khiem T
On Thursday, July 19, 2018, Umansky Subaru General Sales Manager Ray Powdrell and his team partnered with The Leukemia & Lymphoma Society (LLS) to deliver 80 blankets to the Emily Couric Cancer Center in Charlottesville, VA. The blankets served as a sign of warmth and love for cancer patients there, to let them know that there are others in the community thinking of them during their journey. In addition to the blankets, Subaru collected Care Cards, which were messages of hope written by their customers during the month of June as part of the Subaru Loves To Care initiative. The delivery in Charlottesville was truly special because we were fortunate enough to have the opportunity to visits patients one-on-one. In preparation, all parties present during the delivery took part in forming an assembly line to construct packages. Subaru had leftover shopping bags from their June event, so we made kits for each patient which included a blanket, Care Care card, button, and an LLS wristband. The team divided and conquered the second-floor unit to distribute the goods. Many patients had their families present during those visiting hours, so it was really special to present the gift not only to the patient but to their families as well.
---